Savvy Entrepreneurs Share Their Payroll Recommendations
Learn from the experts about payroll services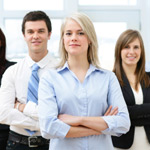 Word of mouth is often the best way to start shopping for a business product. The following are a few pointers from successful entrepreneurs who are happy with their current payroll service provider.
For startups, enlisting the help of a payroll service provider can make more sense than buying and learning a payroll software system. David Greene, MD and CEO opened the doors of Preferred Pain Center in Phoenix, Arizona, shortly after the beginning of the 2008 recession. To focus on growing the business rather than implementing a payroll software system, he outsourced payroll with QTS and remains satisfied with the decision today.
Know that the payroll industry is unregulated by the United States government. Monitor that your taxes have been filed by checking the Electronic Federal Tax Payment System website.
Offer the option of a pay card to your employees if your payroll service provider offers the feature. A pay card is an employee debit card that draws funds from your companyís account. Pay cards are also cost-effective for businesses because they cost 20 cents to load in comparison to the $1 it costs to print a paper check, and they can save employees from high check-cashing fees. ProPayroll, MyPayrollHR, and ADP currently offer pay cards as an option.
You can get concrete numbers on your savings from going paperless by using the American Payroll Associationís Paperless Pay Calculator. A small business with 5 employees can save $45, 3 pounds of paper, and 33 gallons of water annually by offering Direct Deposit and online paystubs.
Finding the right payroll service provider can be a game of trial and error. Kevin Carney of Solera Home Improvement once managed a business whose franchise chose a different payroll provider every year. Unhappy with the price of one payroll provider, the franchise would switch to another lower-cost provider, then switch again the following year. When he launched his own company, Carney immediately went with the payroll company that had exhibited the best customer service (and that also happened to give him the biggest bang for his buck).
Special thanks to entrepreneurs David Greene, MD and CEO of the Preferred Pain Center in Phoenix, Arizona, and Kevin Carney of Solera Home Improvement for their insight on payroll services.
Free Payroll Services Price Quotes
Fill out our short form to get free rates for Business Payroll Solutions.