Common Pitfalls of Small Business Payroll Companies
Possible pitfalls in choosing a small business payroll provider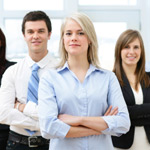 Businesses that are unhappy with their current payroll service provider may not have asked the right questions before signing up. Yet sometimes, things are out of their control. Be aware of these possible pitfalls that small business owners have experienced while outsourcing their payroll.
Teajai Stradley, founder of Ideas That Work, has had experience outsourcing with two different payroll companies. She suggests not signing on with a payroll company until you are comfortable with cash flows, because some companies withdraw funds to cover payroll expenses each month.
It may seem economical to choose a local payroll service provider, but make sure to research the company before you sign up. Kevin Carney of Solera Home Improvement managed a franchise that outsourced its payroll to a local PEO company in San Diego. Two months later, the PEO was shut down by the authorities, and Kevinís franchise lost out on funds caused by the payroll providerís unresolved errors.
It seems logical to assume that a well-known brand often provides the best service. National service companies may have more funds to advertise because of their huge roster of clients, but this might mean an inferior level of customer service for your small business. Consult consumer reviews websites like Viewpoints.com for insight other than what the salesman is telling you.
Special thanks to small business owners Teajai Stradley of Ideas That Work and Kevin Carney of Solera Home Improvement for their insight on outsourcing payroll.
Free Payroll Services Price Quotes
Fill out our short form to get free rates for Business Payroll Solutions.