The 3 Main Types of Payroll Solutions
Research and pick the best payroll solution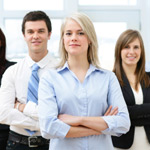 Written by Steve Thompson
Small businesses are constantly looking for new and better payroll solutions to save time and money. Indeed, payroll processing can be an arduous task that takes business owners away from other important duties, and even with an HR department, automated solutions are often preferable.
Types of Payroll Solutions
It is important to compare different HR payroll solutions to find the one that works best for your business. There are many different types of services on the market, each of which offers unique features to help you manage human resources.
Time and Attendance. This refers to the number of hours each employee works each week, including absences, tardiness, sick days, vacation days and the like. A payroll service that tracks time and attendance can take all of the above into account when cutting checks at the end of the pay period.
Tax Services. When sending out payroll, it is necessary to know the amount of taxes to be taken out of the check. A service that offers tax services will conduct these calculations for you and record them for you.
Paycheck Services. The final aspect of payroll processing is sending out actual payments. Either the employee is paid with a paper check, which is usually distributed on payday, or it is handled via direct deposit, which means the money is transferred electronically.
HR Benefits
When you choose the optimum payroll solutions for your business, your HR department can run much more smoothly. Rather than having to calculate every aspect of employee salary by hand, HR payroll solutions allow businesses to automate the process (at least to some degree), which saves money on hiring staff.
Further, the right HR payroll solutions ensure payments are made on time and with as few errors as possible. Employee complaints decrease significantly and business owners are free to focus on other tasks.
Services Offered
The services provided by various payroll services will depend on their expertise. Complete payroll solutions, for example, will handle time and attendance, taxes and paychecks. Others might offer just one or two of the above services, which means that you will have to use a variety of programs or companies.
Certain businesses might need to use payroll solutions that cover very specific aspects of paying employees. For example, restaurant owners should use a payroll service that has experience with calculating tips and adding them to the base salary.
Choosing Complete Services
Complete payroll solutions save business owners from having to coordinate numerous programs or services to cut checks every pay period. This can eliminate much of the stress associated with payroll and ensure consistency. When you use several companies that offer individual services, however, you might be able to save money by picking and choosing the lowest price offering.
Are you ready to find payroll solutions for your business? Submit a free request for price quotes and get matched to multiple providers who will try to get you the best deal.
Free Payroll Services Price Quotes
Fill out our short form to get free rates for Business Payroll Solutions.