How to Get Cheap Payroll Services
Tips for saving money on payroll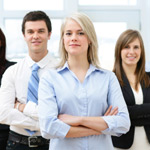 Choosing the right payroll service provider can save you money if you shop around for payroll price quotes, if you know your tax service needs, and if you predetermine the features your company requires.
Every payroll service provider has a unique billing system. A low monthly rate may appear attractive, yet small fees may add up. For instance, Bank of America offers a low monthly rate of $36 and a per-employee charge of $2.00. If you have 50 employees, you'll be paying a minimum of $136 for payroll services each month. Compare this to MyPayrollHR, which charges a high monthly rate of $75 but no per-employee charge, and no extra fees for tax services or Direct Deposit. You'll be paying $75 flat each month.
The majority of payroll service providers provide tax services, yet not all companies include the service in their monthly rate. ProPayroll charges $40 each year for its W2 service, $4.00 per employee, and $10.00 for each additional state. These fees could be caustic if you have many employees; if you have few employees, the fees may have little effect on your payroll expenses. To get the best price for your company, request payroll price quotes from multiple payroll service providers.
Do most of your employees expect Direct Deposit as an option? Most payroll service providers include this in their basic package, but a few charge up to $15 each month for it. Again, this may or may not affect your payroll cost if your employees do not want the Direct Deposit option.
Free Payroll Services Price Quotes
Fill out our short form to get free rates for Business Payroll Solutions.