Things to Know About Payroll Processing Companies
Payroll processing, know all there is to know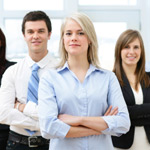 Written by Steve Thompson
Payroll processing is not necessarily difficult, but it is time-consuming. When a small business owner decides to handle payroll on their own, attention is drawn away from activities that could generate revenue or otherwise help the business. There are two basic types: manual and automated payroll processing.
How Payroll Processing Works
There are several steps involved in both manual and automated processing, though the latter takes far less time. For an individual employee, the hours he or she worked must be counted, federal income tax calculated, sufficient money allocated to pay that employee, the check written and records kept.
In some cases, payroll processing will be more complicated. For example, if your employee is enrolled in a corporate insurance program or a retirement plan, those items must be subtracted from the total paycheck and allocated elsewhere. Garnishments might also be a factor as well as state tax forms. Learning about payroll processing can take months of study if you don't have an accounting background.
The Differences Between Manual and Automated Processing
Automated payroll processing is the easier of the two, and is managed by a software or Web-based program that automatically calculates payroll depending on the factors you provide. It can be linked to other software systems, such as time coders for hourly employees, and removes much of the risk of human error.
Manual payroll processing, on the other hand, means calculating payroll entirely by hand. This takes considerably more time and effort as information must be recalculated every pay period depending on the number of hours worked, the amount of money to be withheld for insurance and other matters, and the necessary tax calculations.
How Business Owners Can Make it Easier on Themselves
There are several ways to speed up payroll processing and decrease the potential for error:
Use an online payroll program. Web-based payroll programs are becoming increasingly popular, and allow you to manage automated payroll processing regardless of where you are. These services are generally cheaper than hiring HR employees.
Hire a payroll service. If you aren't comfortable with Web-based programs, there are other software options and companies that can manage your employee payroll. They are also usually cheaper than hiring HR employees and can remove much of the guesswork.
Sign up for direct deposit. Rather than cutting checks every pay period for employees, consider offering direct deposit. Each employee's salary will be withdrawn automatically from your business account and transferred to their personal accounts electronically.
Use complementary services. Depending on the programs you use and the ways in which you keep records, it will save time and money to use complementary services. For example, if you use a Web-based program for payroll and QuickBooks for record keeping, choose a Web-based service that allows you to export to QuickBooks rather than having to manually transfer the information.
Are you ready to find payroll processing services for your business? Submit a free request for price quotes and get matched to multiple providers who will try to get you the best deal.
Free Payroll Services Price Quotes
Fill out our short form to get free rates for Business Payroll Solutions.