How Do Payroll Companies Do Payroll?
Major things you should know about outsourcing payroll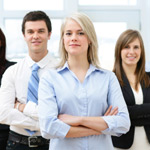 Written by Steve Thompson
Payroll companies are becoming increasingly popular among large and small businesses alike. They take much of the frustration and hassle out of human resources, giving business owners a chance to start new programs, roll out new products, and meet with clients.
Benefits of Payroll Companies
The chief benefit of hiring a payroll company is the money you can potentially save. No longer do you have to hire employees for a full HR department. That saves on salaries, not to mention benefits, bonuses and other expenditures associated with full-time employees. Although you have to pay a fee to hire such a company, it is usually much less than hiring full-time workers to do the same job.
Further, such a company already has a system in place with all the kinks worked out. You don't have to try out new software in the hopes it will work for your business, and you'll know in advance that the people handling your payroll know what they're doing.
How They Work
Most payroll companies operate by computer and over the Internet to process your checks every pay period. A computer payroll company already has a software system in place – sometimes a Web-based program – that keeps track of workers' hours and attendance, taxes and cutting the actual checks.
Some of these companies will send you a batch of checks every pay period to give to your employees, while others allow you to print the prepared checks on your own computer. Still others give you the option of direct deposit, which means that paychecks are electronically drafted to your employees' bank accounts.
Since the process is automated by computer, there is very little potential for human error. You simply send the information needed, such as the names of the employees, the hours they work, their scheduled pay rate and their tax information. In many cases, payroll companies provide their clients with records in QuickBooks or another easily accessible media.
Choosing a Service
The computer payroll company you choose will depend on the size of your business, the features you need and the price you can afford. There are several options available, each with its own unique qualities, and it is important to "test drive" several to get an idea for what you want.
The best payroll companies make your life easier through automated computer processing and even calculating your taxes. They will not require you to add any software to your own computer, and they should employ trained professionals who are experienced with processing payroll.
Are you ready to get online payroll for your business? Submit a free request for price quotes and get matched to multiple dealers who will try to get you the best deal.
Free Payroll Services Price Quotes
Fill out our short form to get free rates for Business Payroll Solutions.