5 Myths About Online Payroll Systems
Read common misconceptions about payroll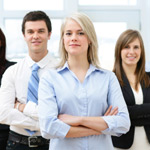 Myth #5: I'll be on hold forever.
Don't worry, adopting an online payroll service plan doesn't mean you'll have to learn to love Muzak. The top online payroll service providers have client service representatives that are available during business hours. There should be a number on the website that you can call to speak directly with someone.
Myth #4: I won't be able to change things at the last minute.
Quick! Debbie in Sales wants Monday off for those Red Sox tickets she found on Craigslist! Online payroll services can be accessed at any time, so it's easy to factor in an employee's last-minute vacation request or generate a customized labor hour report for the past week. Some providers, such as CompuPay, even offer customizable online payroll service plans that provide job costing reports, worker's compensation reports, and other special reports.
Myth #3: They won't file my taxes on time.
The IRS has published a webpage of approved payroll service providers which have passed the IRS Assurance Testing System (ATS) and/or Business Acceptance Testing (BATS) requirements for Software Developers, Reporting Agents, and Transmitters of electronic business returns. Online payroll services are offered by several of the listed companies.
Myth #2: Data is less secure if it's online.
Data security is a serious concern for any business just as it is for the average Joe. Several companies employ extensive data security efforts not only for the sake of clients' data but for the wellbeing of their own company. SurePayroll uses encryption to safe lock employees' social security numbers and other confidential information, unique identifiers for phone calls, multiple layers of firewalls, and a physical data center that is monitored 24 hours a day, seven days a week.
Myth #1: If the Internet goes down, no one's getting paid.
Ah, the grand-daddy of all online payroll myths. Gasp! A down Internet connection! Papers start flying, coffee cups burst into flame and the CEO begins to fashion a noose from the cord of her mouse. All because everyone knows that online payroll simply can't be done when the Internet is down.
Wrong. The biggest advantage to an online payroll system is that it's mobile. Which means that if your office Internet connection is down, you can still access your payroll system from any computer in any location with Internet connection. You can even complete payroll on your iPhone, iPad, or iTouch with the SurePayroll Mobile Payroll App.
Free Payroll Services Price Quotes
Fill out our short form to get free rates for Business Payroll Solutions.