Welcome to Payroll Provider Comparison!
Compare payroll rates between multiple companies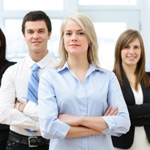 Want to find a quick way to upset your employees? Get their paychecks wrong.
Getting payroll right should be one of the biggest concerns for any small business -- but it's not easy and the job never ends. Whether it's once or twice a month or weekly, handling hours, withholding, taxes, and the rest of the payroll can be a real challenge. And just when you think you have a handle on it, the state or federal government changes the rules!
It's no wonder such a high percentage of companies outsource their payroll: professional payroll services make all these tasks look easy, and they're relatively affordable, too. If you're unhappy with your current provider, or don't have a provider at all, submit a free price quote request below to compare the deals you can get -- you might be pleasantly surprised.
Compare payroll rates from up to 6 providers
Get rates from up to 6 providers, compare, and save.
What are other businesses looking for in a payroll provider?
Our users have described their requirements in detail.