Louisiana Payroll Services
Payroll Service Directory and Price Quotes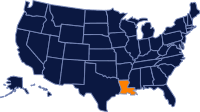 PayrollServiceProvider.com can connect you to business payroll companies throughout Louisiana and across the country. Our intelligent matching process will help you compare multiple payroll service companies so you can evaluate their products, pricing, support, and service. View our comprehensive
Louisiana Payroll Service Directory
to find company contact information or
fill out our quick and easy quote request form
to have multiple Louisiana payroll service companies contact you with free payroll service price quotes. Our service is completely free and there is absolutely no obligation to hire anyone who contacts you through our service.
Free Louisiana Payroll Service Price Quotes
Fill out our short form to get free rates for business payrolls.
Louisiana Payroll Service Companies
Administrative Onesource
2200 Veterans Blvd
Kenner LA 70062
504-472-5303
ADP - Automatic Data Processing, Inc
415 Texas St
Shreveport LA 71101
318-222-9774
www.ADP.com
ADP - Automatic Data Processing, Inc
3388 Brentwood Dr
Baton Rouge LA 70809
225-925-8590
www.ADP.com
ADP - Automatic Data Processing, Inc
3828 N CAUSEWAY BLVD
Metairie LA 70002
504-837-1200
www.ADP.com
Advantage Payroll Services
1543 Delplaza Dr
Baton Rouge LA 70815
225-926-5640
Atad Payroll
11823 Justice Ave
Baton Rouge LA 70816
225-292-5807
Best Systems, LLC
13360 Coursey Blvd
Baton Rouge LA 70816
225-755-0391
Callais Alvin J CPA
231 Capitol St
Denham Springs LA 70726
225-664-3671
Checkmate
114 Highland Crest Dr
Covington LA 70435
985-809-5006
Creative Payroll Solutions
4440 Youree Dr
Shreveport LA 71105
318-868-2010
Field Data Services
615 San Jacinto Cir
New Iberia LA 70563
337-367-7921
Financial Express
9125 Walker RD
Shreveport LA 71118
318-687-9099
Lafleur's Professional Tax Service
211 Hodges St
Lake Charles LA 70601
337-439-9553
LaPlace Payroll Service
307 Somerset Road
La Place LA 70068
985-233-0148
Letjer Payroll Processing
1501 Wimbledon Blvd
Alexandria LA 71301
318-487-8216
Net Chex
11843 Bricksome Ave
Baton Rouge LA 70816
225-293-4402
Paychex, Inc
401 Whitney Ave
Gretna LA 70056
504-368-4455
Paychex, Inc
4334 S Sherwood Forest Blvd
Shreveport LA 71101
877-895-1956
Paychex, Inc
4334 S Sherwood Forest Blvd
Baton Rouge LA 70816
225-291-7773
Payroll and Business Solutions, Inc
1514 Elm St
Morgan City LA 70380
985-384-2773
Payroll Management Services
1109 Texas Ave
Alexandria LA 71301
318-449-9163
Payroll Plus, Inc
1900 Lamy Ln
Monroe LA 71201
318-324-8814
Payroll Rx, LLC
3445 North Causeway Blvd
Metairie LA 70002
504-520-8368
http://www.payrollrx.com
Payroll Rx, LLC
302 Keystone Loop
Houma LA 70360
985-876-1711
Perfect Time Payroll
1864 Industrial Blvd
Harvey LA 70058
504-348-1816
Petro's Tax Service
1538 Delplaza Dr
Baton Rouge LA 70815
225-926-0932
Time Plus Payroll Services
11925 Wentling Ave
Baton Rouge LA 70816
225-293-6311
Time Plus Payroll Services
109 New Camellia Blvd
Covington LA 70433
985-845-8828