6 Traits Of The Best Paycheck Services
Features that the best payroll companies are offering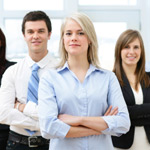 The best payroll service providers will satisfy your small business' needs for a price that suits the needs of your company. The following features are offered by the best payroll service providers.
Saves you money. A small business consultant who recently converted two medium-sized companies to outsourced payroll plans saved each company around $12,000 a year in expenses.
Great customer service. The best companies provide several ways to get help when you need it – including a general support number, an email contact, and even live chat. In addition to its customer service line, Paychex provides a Payroll Specialist for each of its clients, and Intuit Online Payroll even has weekend web support.
Tax assurance. Most payroll companies will take care of your taxes, but not all will stand behind a strong tax compliance policy. SurePayroll guarantees on-time tax compliance and will work with the IRS on your company's behalf, and pay any resulting penalties.
Specialized packages. Restaurants, construction companies, trade-related businesses, and other businesses with specialized payroll and job costing needs now have the option to outsource payroll with CompuPay's Specialty Payroll service.
Access to PEO services. A Professional Employer Organization (PEO) such as Oasis takes care of human resources, employee benefits, and payroll tasks so that your company can focus on its core business. Streamlining payroll with your company's other administrative tasks may make sense for your business.
Employee self service. If part of your day is spent answering your employees' questions about paychecks or vacation time, this could be a real time-saver. TimePlus, SurePayroll, Intuit Online Payroll, and several other payroll companies offer this feature.
Free Payroll Services Price Quotes
Fill out our short form to get free rates for Business Payroll Solutions.