5 Mistakes to Avoid When Choosing A Payroll System
Common mistakes when choosing payroll companies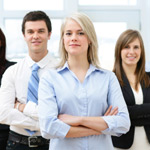 5. Spending too much.
The way to avoid this is to not make your decision based on monthly rate alone. Payroll service prices are a combination of a monthly rate and a fee per employee (usually around $2.00). Some companies charge a low monthly rate but add fees for tax services or direct deposit services. Make sure to ask these payroll service questions when youíre choosing which payroll service provider youíd like to go with.
4. Unrealistic expectations.
Outsourcing your payroll doesnít remove all payroll tasks from your business -- each week, employee hours will need to be submitted to the payroll service provider by phone, fax, email, or online. Also keep in mind that selecting an online payroll service will be more of a self-service approach to outsourcing payroll. Before you outsource payroll, decide whether you can delegate weekly tasks within your company or if you will handle them yourself.
3. Skipping the demo.
Donít buy something you canít stand looking at. When it comes down to your top choices, take a quick peek each providerís demos or screenshots. You donít want to spend a year working with a product that isnít easy to use.
2. Not shopping around.
Request payroll price quotes from multiple payroll service providers. An insurance company in Garland, Texas is paying half the price quoted by the other payroll companies because the winning company offered unlimited payroll processing.
1. Trusting the company alone.
Hear what others have to say! Request references from the company itself, search for reviews on sites like Epinions or Viewpoints, and find out if there are unresolved consumer complaints on the Better Business Bureau website.
Free Payroll Services Price Quotes
Fill out our short form to get free rates for Business Payroll Solutions.