7 Questions To Ask An Employee Payroll Company
Things to ask before you outsource payroll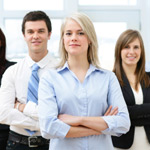 1. How do I know if my data is secure?
The best payroll service providers have several security measures in place such as data encryption, and alarmed and monitored data centers.
2. How easy is it to reach a customer service representative?
A customer service phone number is great, but many payroll service providers offer additional features like live chat and online demonstrations. Intuit Online Payroll offers its customers live online support.
3. Can I still use my current software?
Several payroll service companies fall short when it comes to integrating with accounting software. If you canít live without QuickBooks or another software program, software integration may be a major deciding factor for your company.
4. What is the fee per employee?
Payroll prices are often a combination of a monthly service rate and a fee per employee. The fee is around $2 or less per employee per month. Find out what works best for the size of your company.
5. How do I know if taxes are paid on time and correctly?
Tax services are a major benefit to outsourcing payroll. If youíre worried about entrusting someone else with your companyís taxes, find out if the company offers any safeguards. SurePayroll guarantees on-time tax compliance, will work with the IRS on your companyís behalf, and will pay any resulting fines.
6. Will Direct Deposit services and W2 services cost extra?
Some payroll companies include these charges in your monthly bill, while others charge up to $15 for Direct Deposit services and up to $45 for preparing W2 forms at year end. What may seem like a low monthly charge for payroll services can end up being comparable to the other companies Ė itís all about how each company distributes costs. And if you have employees in several different states, avoid the companies that charge up to a $12 fee for filing taxes in additional states.
7. Are taxes impounded each payroll period?
Some payroll service providers impound your taxes each month instead of taking them out in a lump sum when the government requires you to pay them. If cash flow is important to you, keep this in mind.
Free Payroll Services Price Quotes
Fill out our short form to get free rates for Business Payroll Solutions.