Guide to Small Business Online Payroll
Learn more about your online payroll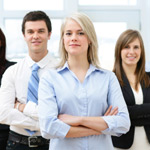 Written by Steve Thompson
These days, it seems like every aspect of business has an Internet counterpart, and online payroll is no different. Rather than hiring full-time HR staff to cut checks, calculate taxes and keep records, itís possible to take care of just about every aspect on the Internet. This can save business owners thousands of dollars every year in salaries and benefits they would have otherwise paid to employees.
How Online Payroll is Different
Just like any other Web-based software, small business online payroll takes the task outside the office and puts it on the Internet. Unlike in-house processing, the software automates the process of cutting checks every pay period, and does not require you to put a huge program on your Intranet.
In most cases, online employee payroll can be managed from any computer, at any time. This means you don't have to be logged in at your home office to make changes to your payroll system or to check on records.
How It Works
When you sign up for online payroll, you will need to create an account online with the company you choose. You will need to provide information such as the industry you are in, the number of employees on your staff and the salaries of each employee.
In many cases, the small business online payroll system will also handle your tax information, including filing your taxes each year. Therefore, you will need to provide the necessary tax information as well.
The exact process for online employee payroll will vary depending on the service you choose. Some are almost completely automated and require little employer intervention, while others may need constant supervision. Each pay period, you will enter the hours each employee worked, any bonuses that need to be paid and the hourly or salary rate. Then you can either sign up for direct deposit (and enter your employees' bank information) or you can print the checks on your own computer.
The Benefits
There are many things about starting and running a small business that eat away at your day with no regard for your to-do list. Online payroll can simplify at least one area of your professional life, giving you an opportunity to focus on other things. And, since you don't have to install software, you can manage payroll from anywhere in the world as long as you have access to a computer.
Safety Concerns
Any time you use the Internet to manage part of your business, the potential exists for security breaches. However, a reputable employee online payroll service will implement safeguards to keep your data secure.
On your end, there are several things you can do to protect your employees' information. If you use a computer outside the office, for example, make sure to clear the browser history and cookies before you sign off from your session. Never let the browser retain passwords for payroll services and make sure your screen cannot be viewed remotely.
Are you ready to get online payroll for your business? Submit a free request for price quotes and get matched to multiple dealers who will try to get you the best deal.
Free Payroll Services Price Quotes
Fill out our short form to get free rates for Business Payroll Solutions.