How To Choose A Small Business Payroll Software Package
Tips on choosing the right payroll software package for your small business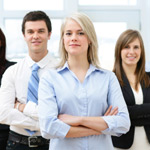 Payroll software can be a smart option for new businesses because it is usually less expensive than outsourcing payroll services or contracting with a bookkeeper. Consider the following when shopping for a payroll software package.
If you're just starting out, a basic software package is often the least expensive payroll option. Look for a brand that offers multiple tiers of packages so that your software expands along with your business. Intuit offers four levels of QuickBooks software packages that range from a basic $100 package to a feature-rich $600 package.
If you want the convenience of completing payroll tasks away from the office, look for a payroll software package that offers remote access such as Sage Peachtree Complete Accounting and QuickBooks Pro.
Eric Conn, COO & Co-founder of Gloto Media Platform, recommends choosing a software package that will integrate with an outsourced payroll provider, to give your company the option of outsourcing in the future. His company began outsourcing payroll last year but still maintains QuickBooks software for internal accounting purposes.
If your business is comprised of more than a few decision-makers, look for a software package that allows more than one person to log in at one time.
Keep in mind that software that helps you complete your taxes must be updated each year so that you're using the correct tax tables. Generally, there is an annual fee to update tax tables.
Special thanks to Eric Conn, COO and Co-Founder of Gloto Media Platform for his insight on choosing a small business payroll software package.
Free Payroll Services Price Quotes
Fill out our short form to get free rates for Business Payroll Solutions.