Do You Really Need Small Business Payroll Services?
Find the best small business payroll service providers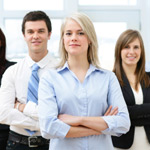 Written by Steve Thompson
Small business payroll services can be an enormous asset for any business owner. Small businesses often operate without a dedicated accounting department, which means that executives must take valuable time away from their other duties to calculate taxes, write checks and allocate funds. A payroll service eliminates that drain on your time.
What Are Small Business Payroll Services?
A payroll service is designed to take the guesswork and the headaches out of accounting. There are several different types of services, some of which operate exclusively online, while others own brick-and-mortar storefronts.
When you use small business payroll services, you hand over all the requisite information and let a third party handle the legwork. The features, prices and other considerations will vary, however, so it is important to know what type of service you need before you make your decision.
The Benefits of Using Payroll Services
As mentioned above, a payroll service lets you dedicate your time to other tasks that only you can accomplish, such as finding investors or meeting new clients. You won't have to hire an accountant to handle your payroll, which means you'll save money on the benefits, salary and other expenses associated with a full-time employee.
Additionally, you will be less likely to make errors on payroll when using this type of service. Since you are hiring professionals to handle your employees' checks, you won't have to learn all the intricacies associated with payroll and your business will run more smoothly.
Potential Drawbacks
Small business payroll services are not for everyone. They cost money, of course, which means you will have to set aside the necessary funds to pay for the service. New businesses might have difficulty paying for luxuries like payroll services, so it might not be something your business is ready for just yet.
Payroll companies are not perfect, and there is always the possibility of mistakes. It can be more difficult to correct mistakes made by a third party because you won't have immediate access to their processing methods and data. If you hire a service with poor customer service, it could create significant headaches.
Is My Data Secure?
Most small business payroll services take extensive security measures to protect their clients' confidential data; what could be more confidential than your employees' salaries? With that said, small business owners should never take security for granted.
When hiring a payroll company, it is important to ask specifically how it handles security and what steps it takes to minimize risk. Your contract should address the issue of security in detail, and you should have recourse in the event of a security breach.
A payroll service can be an enormous relief for many small business owners, offering functionality that is not readily available in any other form. As long as you take the time to research vendors and determine which features are essential for your business, this might be an excellent step in the right direction.
Are you ready to review small business payroll services for your business? Submit a free request for price quotes and get matched to multiple dealers who will try to get you the best deal.
Free Payroll Services Price Quotes
Fill out our short form to get free rates for Business Payroll Solutions.