Why Small Businesses Are Outsourcing Payroll Processing
Read about payroll outsourcing options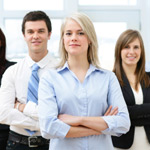 Written by Steve Thompson
Many small businesses are taking advantage of payroll outsourcing, which simply means that a third party handles employee payments, as well as taxes and record keeping related to payroll. This removes several burdens from the business owner and negates the need for more full-time HR professionals.
What is Payroll Outsourcing?
Outsourced payroll occurs when a business hires another company to handle various HR duties, such as calculating taxes and cutting checks for employees. There are several different levels of outsourced payroll services, so business owners can pick and choose what they want.
For example, some business owners have no problem letting a third party keep track of employees' hours worked and attendance, but would rather print and send out checks themselves. This is possible with a partial payroll outsourcing program, and can include other combinations of services.
Benefits of Outsourcing Payroll
There are several benefits of payroll outsourcing, not the least of which is the time saved by hiring someone else to take care of this tedious task. Employees can focus on revenue-centered responsibilities, such as sales and marketing, and business owners have one less worry.
Additionally, outsourced payroll allows business owners to take advantage of a proven, automated system. They don't have to learn new software or install new programs on their own computers, which saves valuable time and resources. Knowing that payroll is in the hands of experienced professionals can also be a major source of stress relief.
Drawbacks
Of course, the other side of the coin is the loss of control. Although clients of outsourcing companies can specify which features they want to use and provide the information necessary to process payments, it is virtually impossible to micromanage payroll remotely.
Therefore, it is important for business owners to thoroughly interview and vet potential partners. Make sure the payroll outsourcing company you choose is one you can trust and have confidence in before you decide to move forward.
Services Offered
As mentioned above, a payroll outsourcing company can offer any number of convenient services related to processing and executing payments. For example, some will monitor employee hours so they can process payments quickly and with less intervention from the client.
Others will handle taxes – even filing for the business and sending W-2s to employees – which can eliminate the need for a full-time accountant on staff.
When choosing a payroll outsourcing company, make sure they tell you which services are offered and how much is charged for each. In many cases, a package deal will be offered to save you money, and will keep you from having to hire several third parties to accomplish payroll.
Are you ready to get payroll outsourcing for your business? Submit a free request for price quotes and get matched to multiple dealers who will try to get you the best deal.
Free Payroll Services Price Quotes
Fill out our short form to get free rates for Business Payroll Solutions.